If you are thinking about setting up a business in Dubai, you may be surprised to know how simple the process may be to accomplish. Specifically, when the new prospective business owner has access to sites like Virtuzone. Because Virtuzone has been set-up since 2009, they have assisted more than 14,000 businesses through this process successfully. With the information that this online company provides, any business owner will have immediate access to the procedures that they will need to follow to set up their own company in Dubai. Having said that, here are the basic steps that you will need to complete before you can obtain your United Arab Emirates approval.
#1. Register the Business
The business setup in Dubai starts off with you, as the prospective business owner, registering your business. It is this part of the process that helps you to collect and prepare the documentation. When completing this process online, you will be walked through the process of deciding who your local partner will be, obtain a business name from the DED (Department of Economic Development), establishing the business location, completing a tenancy contract and other related steps that's required to complete the process of registering the business within the United Arab Emirates.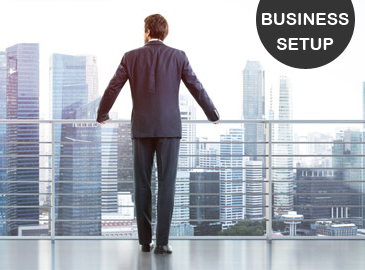 #2. Business License
After registering the business license, the next step in this process is to obtain the license for the business. If this process is being completed through the business setup in Dubai online option, you will receive a notification that your business license has been granted. This is a significant part of the process since it will then lead you to being able to apply for and open up your own corporate bank accounts.
#3 – Opening Up a Bank Account
In addition to obtaining the business license, the next step in this process is to open up a business account for the company. This account is a vital part of getting set-up so you will need to know exactly what is required well in advance. For instance, it is also important to note that you will most likely be presented with several hurdles before the process is actually complete. However, this process is not impossible or too difficult to complete since many foreign companies are conducting business activities with their banking every day.
In fact, if you are encountering any confusion on what documents are needed and those that may not be required at all, you may find that the Free Zone consultants can assist and respond to any questions that you may pose. Even though the process may appear to be a lot of work, this approach is much better. Especially, because this online process is a one-stop shop that eliminates the need for going to several different government authorities to obtain the appropriate information.
#4 – Obtaining the Visa for Your New Business in Dubai
When the corporate bank has been opened for conducting business, the next step in this process is obtaining the visa. Obtaining a visa is a relatively simple process. However, the process is dependent upon which country that the business owner is coming from. For instance, if the business owner is from the U.S., all the new business owner will need to do is obtain their visa when they arrive in Dubai. The visa that they will receive, however, will be good for at least 30 days from the actual date that they arrived. Additionally, if the owner chooses to stay longer and need an extension, they can obtain another visa that will last for 30 more days, from the date of entry into the country.